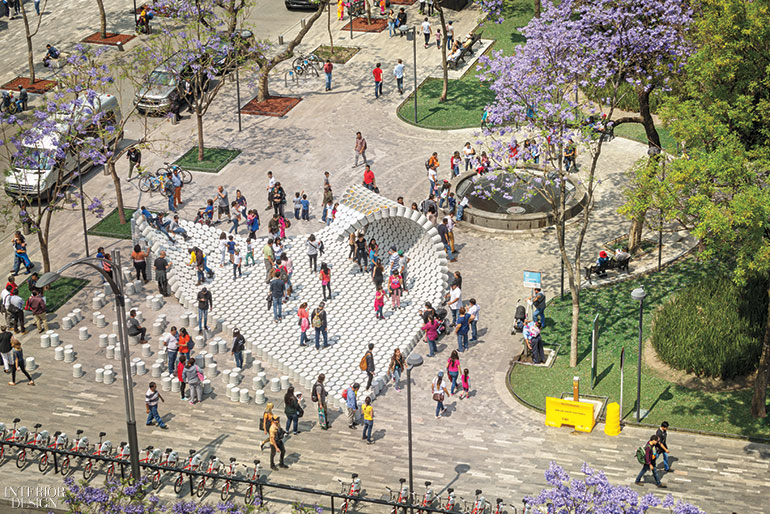 Ar[t]-chitecture
Even before becoming a designer, I have always been intrigued by the nuances between art and architecture. As I learned more about the two, I understood how one could exist without the other. For instance, one could say that there is not much art in the design of a Home Depot building. Similarly, someone may not see much architecture in Pollock's abstract expressionism. However, I invite you to see what happens when they actually come together, intentionally.
Recently, I came across the collaboration between 5468796 Architecture and Factor Eficiencia to create a temporary installation in Mexico City. They designed "One Bucket at a Time" showing how art and architecture came together to engage passersby. Using 2,500 gray plastic 5-gallon paint buckets and 1,300 feet of yellow nylon rope, they have woven a triangular platform that bent in two ends. While one enticed the public to sit or lounge, the other curved up to create a canopy. Approximately 100 buckets complemented the construction, as if they had crumbled away from the open edge.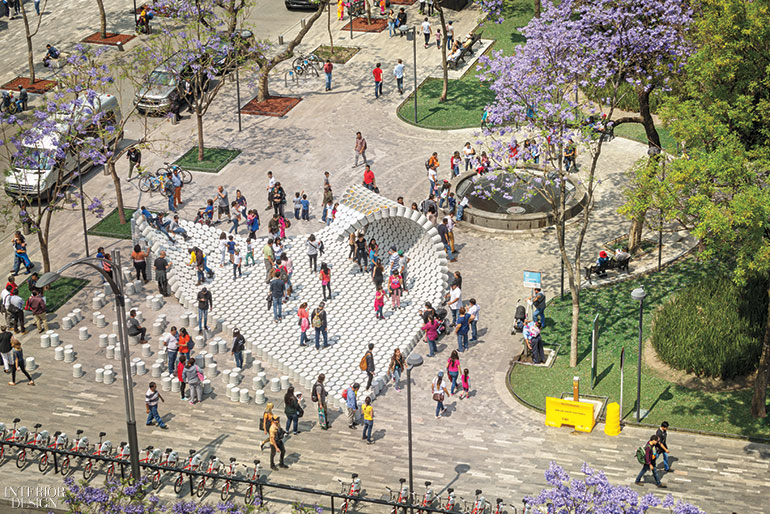 Thinking about how much a paint bucket can tie the connection between art and architecture reminded me of the Favela Painting Foundation [Favela means slum in Brazilian Portuguese]. Founded by Dutch artists Dre Urhahn and Jeroen Koolhaas, FPF believes that art, "if implemented in an intelligent way", "can be [a] powerful weapon to catalyze social change." Using paint and slum constructions as canvas, FPF revitalized communities that struggled with drug trafficking in Rio. From the Foundation's website, the "explosion of pastels rays of sunshine, caused CNN to quote Praça Cantão as 'one of the ten most colorful places in the world'."
And, as I picture myself standing across from Praça Cantão's large scale painting, another project comes to mind, the Metropol Parasol. Completed in 2011, MP is a wood structure designed by the German architect Jurgen Mayer H. Built over La Encarnacion Square in Seville, Spain, this waffle-like wood structure comprises a sequence of canopies built with bonded timber-construction that conceal wide cast-in-place concrete columns.
This building may resemble one of your architecture models built using notched chipboard, however, its overall footprint is 490 by 230 feet, and the overall height is 85 feet distributed among 3 levels above ground. Although the scale is monumental, you may enjoy experiencing it when the sun is out. In the play of light and shadow projected on the floor, you may find yourself "encapsulated" in a lit pod.
So, as you walk around, observe closely! Because you may find either art or architecture featured in a solo show. However, they may look even more appealing when they "dance" together.
– Andy Vieira